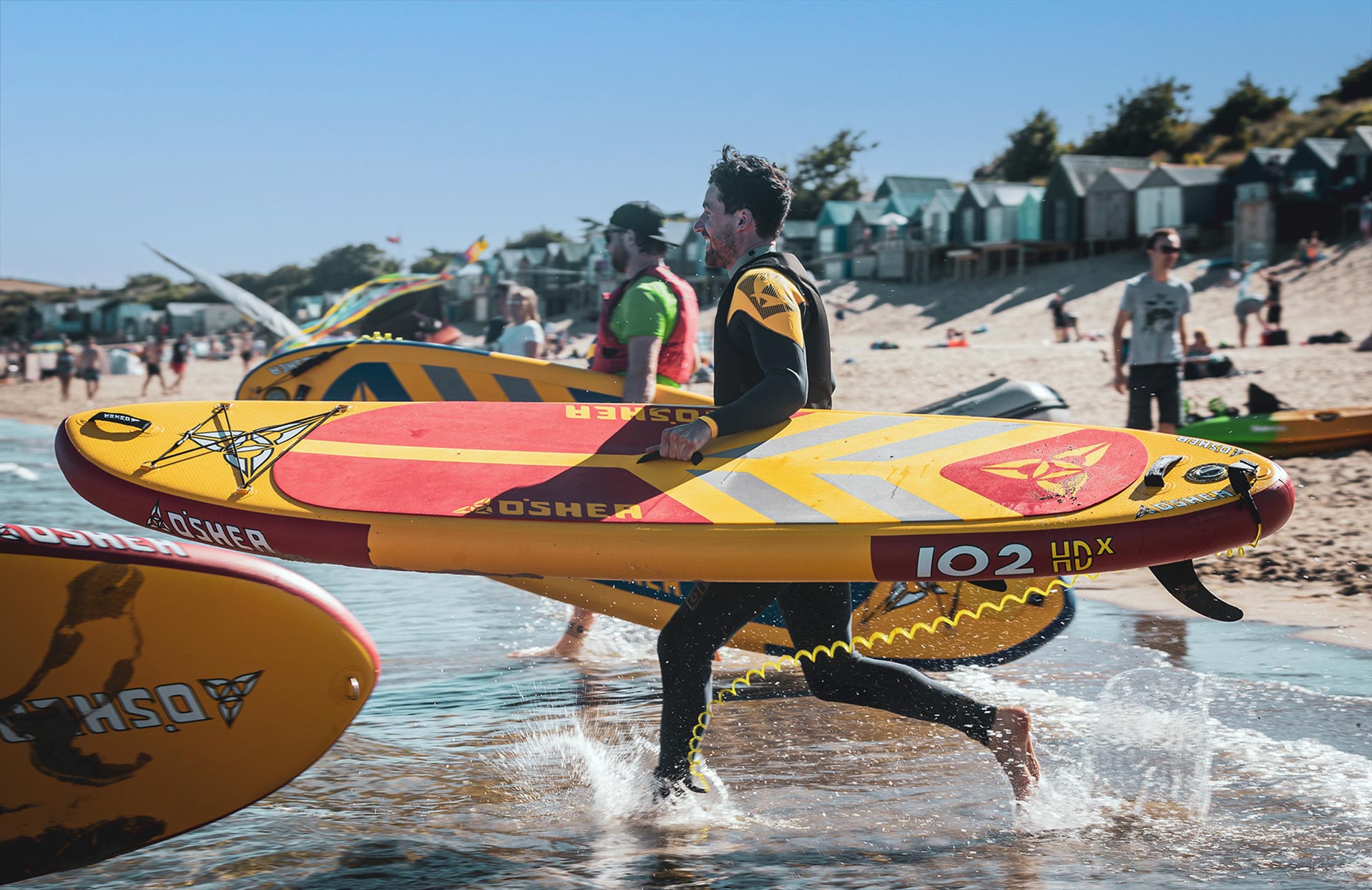 BEGINNERS TO INTERMEDIATES
WHICH BOARD SHOULD A BEGINNER TO INTERMEDIATE BUY?

Choosing a board for your first steps on an inflatable SUP is really very straightforward. The key criteria you should be looking for is the stabilty a particular board will provide for your weight, so that you have confidence as soon as you step on the board.

There are various factors that affect the stability of the board, including the length of the board, the volume of the board, the width and shape of the board, the board's thickness, the construction of the board and how that affects the siffness of the board.

We have seen countless cases in the past whereby cheaper boards have been purchased which do not have the required stiffness of the better brands, resulting in a bendy and unstable platform, making learning how to SUP rather difficult. In fact, even standing on one of these supermarket purchased SUP's can be a challenge.

Our constructions and designs ensure that the board under you feet will provide that stability - via its siffness and design. Our boards are used at many SUP school and hire centres across the UK, due to these factors so that you can be confident that these are tried and tested designs which will help you progress and have fun from the word go.

SO... WHICH BOARD SHOULD I CHOOSE?
Each of our SUP'S has a suggested maximum rider weight, which will give you a good idea of which boards will be suitable. Also bear in mind whether the board is going to be used by other members of the family, who may be heavier or lighter than yourself, or you may wish to have a passenger on board, such as a child or dog!
Generally, it is also the shorter SUP's which you should be looking for, under 11' in length - with boards over this length more suitable to those who have progreesed further on their SUP journey. The sub 11' boards will also be more easy to steer for those starting off.
You will also see that we use 3 different constructions... QSx, HDx and HPx. Each construction will be entirely suitable for a beginner paddler, with QSx providing a great value mix of stiffness and price. HDx is very popular with our school and hire centre partners, with its extra durability, whereas the HPx is for those who want the latest ultra light construction technology.

FOR BEGINNER CHILDREN & LIGHTER RIDERS Up To 50kg Weight:
Here's a selection of boards which we recommend for lighter weight riders and children. These will boards provide that stable learning platform to help you progress, and will be a perfect choice for the vast majority of recreational riders.

FOR BEGINNER RIDERS Up To 100KG Weight:
For those up to 100KG in weight, the options are numerous and will depend to some degree on your budget...
FOR BEGINNER RIDERS Up To 125KG Weight:
These boards will provide that stable platform for the slightly heavier rider and provide fun for all the family.