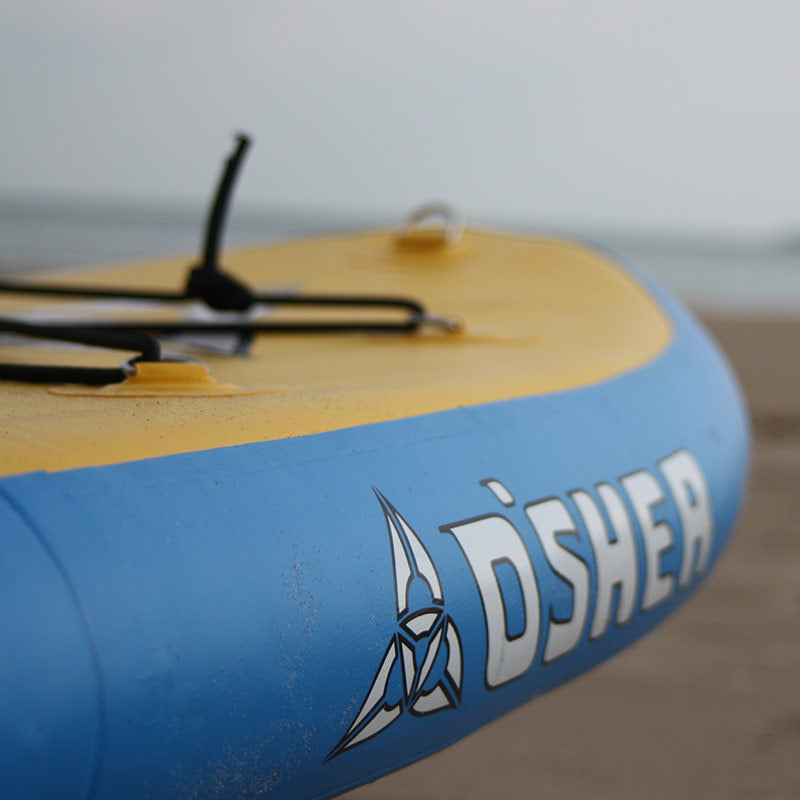 O'Shea Paddle boards are constructed using 3 manufacturing process' which we call QSx, HDx and HPx.
All the constructions use "Drop Stitch", which means that when inflated, the boards become incredibly rigid.
All constructions provide optimum durability, however, the more advanced manufacturing process for the HPx construction does bring a noticeable weight and performance advantage. For more info on our constructions – please visit our tech page.
This will depend on your size, age and experience. Ask your local dealer for advice on this, or have a read of our "Choose Your SUP" section by clicking here...
Normal recommended inflation pressure is 13-15psi.
AFTER USE CARE: Rinse your board with fresh water immediately after use. Ensure the board is dry before rolling up loosely and storing it in a dry environment. If deflating your board, push the valve pin down carefully.
LONGER TERM STORAGE: If storing inflated, reduce psi to approx 8psi or less.  Ideally store in a cool dry environment.
If storing deflated, loosely roll up the board, first ensuring it is clean and dry. The SUP can be stored in your back pack (ensure bag is clean and dry).
High Temperatures (25c+) and/or strong sunshine can cause over expansion of the air inside your SUP and in a worst case scenario, mis-shape or damage your board beyond economical repair.
On The Beach / By The  Lake: Avoid leaving your SUP fully inflated in hot sunshine for long periods, by either utilising shaded areas or regularly going back on the water. If this situation is unavoidable, release some pressure via the valve to 8psi in hot weather.
On & In The Car In Hot Weather: It is best practice to transport your SUP deflated, as cars get really hot in strong sunshine and the same goes for boards left sunbathing on roof racks. However, if transporting inflated is unavoidable which we do not recommend, please reduce air pressure of the board to lower than 8psi.
Beware of offshore winds or currents!
Always wear a leash – leashes save lives!
Get informed on local regulations and hazards related to this sport or water activities.
Learn about your paddling area. Ask locals about tides and currents.
Be careful that you do not over estimate your strength, endurance or ability level.
Avoid all contact between the board and sharp objects, including rocks, shells and broken glass
Use an O'Shea hand pump to inflate your board. Do NOT use a compressor at any time!
1. Affix the fin to the fitting on the bottom of the board. To do so, slide the fin into the groove and tighten the fin screw into the plate.
2. Your board is equipped with a high pressure H3 valve. To inflate, open the valve cap by turning it anti clockwise. Check and make sure the spring loaded pin is not depressed and is locked in the the up / open positions.
To attach the pump hose to the high pressure valve, use the appropriate nozzle and fittings which are supplied with the high pressure pump. Push the pump hose to the high pressure valve and turn clockwise to lock it. Inflate until you reach the required pressure (see 3). After inflation, disconnect the hose from the valve and close the valve with the cap. Note that the valve won't be airtight until the valve is closed with the valve cap.
3. Max Air Pressure: The correct air pressure for this board is 10 to 15 psi. Do not exceed it. Check the pressure of the board on the pumps pressure gauge.
NEVER INFLATE WITH A COMPRESSOR.
All O'Shea iSUP's come with a 1 year manufacturers warranty, which is upgradable (for free) by registering your purchase on this site.
The warranty covers all workmanship and/or manufacturing defects. For further details – click here.
O'Shea Paddle boards are tough and are highly unlikely to puncture externally under normal usage.
If you encounter a problem with your iSUP, firstly contact the authorised retailer where you purchased it, who should be able to advise you.
Before carrying out any repair with an O'Shea repair kit, on your board, we recommend that you contact us for advice at info@osheasurf.com
Inflatable SUP Packages have free delivery to mainland UK Addresses.